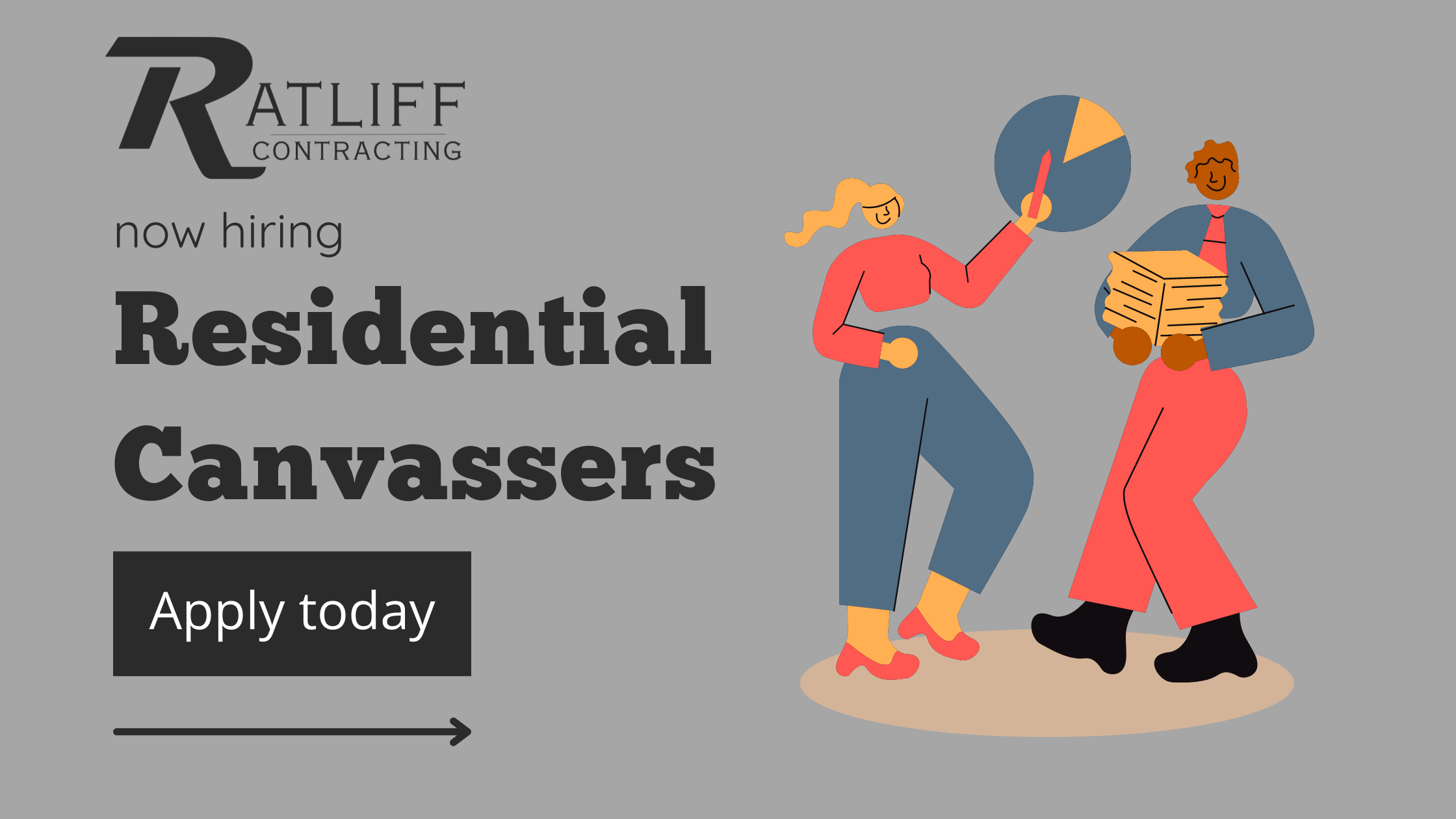 | | | |
| --- | --- | --- |
| Job Type: Full time | Pay: $50,000 – $150,000 / year | Location: Westerville, OH | Driving |
Join Our Growing Team
We are looking for enthusiastic part-time Canvassers to introduce Central Ohio homeowners to Ratliff Contracting, hand out marketing materials, and talk to folks about our range of roofing, siding, and gutter services. As a Canvasser, you will be responsible for approaching people at home and making a great first impression on behalf of our company so that they become more aware of our brand and are more likely to call us for help when they need it.
To ensure success as a Canvasser, you should have excellent interpersonal skills, a strong background in sales, and the ability to provide information on a range of products and services. Ultimately, a top-notch Canvasser is someone who can intimately relate to people face-to-face and sell the company products or ideas without coming across as aggressive or pushy.
Canvasser Responsibilities
Memorizing and reciting sales scripts or statements prepared by the employer.
Driving to Canvassing locations.
Approaching and talking to people at their homes and handing out marketing materials.
Displaying knowledge of the product or organization and attempting to sway opinions.
Answering questions about Ratliff Contracting's home improvement services.
Maintaining a professional appearance.
Meeting as set out by the company or organization.
Canvasser Requirements:
High school diploma or GED.
Previous work experience as a Canvasser is preferred.
Sales experience is preferred.
Excellent interpersonal skills.
Ability to sell ideas or products and sway opinions.
Ability to work after-hours and on weekends.
Ability to travel extensively.
Ability to work outdoors.
Ability to walk and stand for long periods.
If you are interested in the position, please fill out the form on this page and upload your resume, or visit our job listing for this position at indeed.com to fill out an application and schedule an interview.
Career Application
Career Application Form