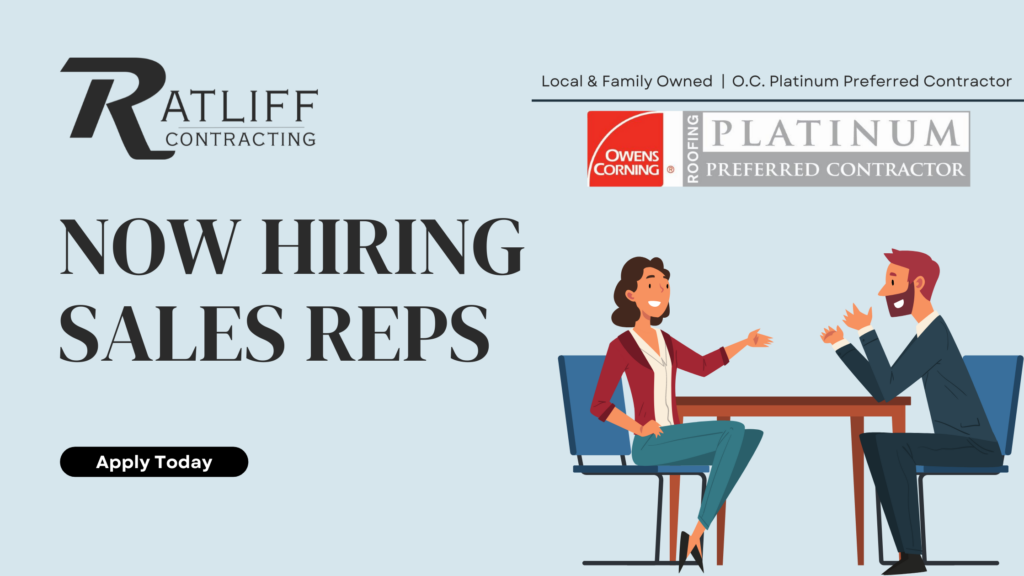 | | | |
| --- | --- | --- |
| Job Type: Full time | Pay: $50,000 – $150,000 / year | Location: Westerville, OH | Driving |
Join Our Growing Team
Ratliff Contracting is a successful & friendly construction company looking for motivated salespeople to help customers make the right decisions on their homes. Never sold anything? No worries, we will train you. The job has paid training and immediate opportunities to make money to help kickstart your career with us. Candidates must be neat in appearance, have reliable transportation, possess good communication skills and an eagerness to learn. Experienced sales reps are always welcomed, competitive commission structure and leads will be provided along with bonuses available. Read below for even more great details about the job.
Sales Rep Responsibilities
• Identify current issues with roofing, gutters, and siding and provide solutions.
• Accurately measure roof, gutter, and siding components to determine how much time and material are needed for various types of repair and replacement jobs.
• Provide and present detailed estimates for necessary services.
• Work directly with homeowners and insurance adjusters on site.
• Walk the homeowner through the entire inspection, insurance claim, and repair processes.
• Manage sales pipeline with multiple clients at one time.
• Coordinating with our highly skilled operations team to ensure our clients' needs are met, or ideally, exceeded.
Sales Rep Requirements and Qualifications
• High school diploma or GED.
• College degree is a plus.
• Flexible schedule.
• Must feel comfortable with heights (going up/down ladders, getting on/off roofs).
• Naturally outgoing and articulate individual who thrives in social settings.
• Previous roofing sales/operations experience is a plus.
• Basic computer skills.
• Clean driving record.
• The ability to work as a team and on your own.
Ratliff Contracting is family owned and operated and has been dedicated to providing exceptional service to central Ohio homeowners for many years. We are fully accredited by the BBB and have been exceptionally rated by our clients and partners.
We have also been hand-picked by Owens Corning to represent them as a Platinum Preferred Contractor. Owens Corning has been a recognized leader in the building industry for over 75 years, and being one of their top-tier contractors means that we have established the credentials to provide workmanship that few other contractors can offer.
Our business is in a growth phase right now, so this position presents a unique opportunity to join a team of highly skilled experts as we continue to rapidly expand. Please contact our office at (614) 702-ROOF with any questions.
Career Application
Career Application Form